About Camille
Camille has achieved notable acclaim for bridging both musical and cultural divides. Born to a Coptic Egyptian father and English mother, her repertoire is as extensive as it is diverse, specialising in singing new music and often working directly with composers to incorporate elements of Arabic music. Camille made her debut at Glyndebourne last autumn, playing Oma in Glass Human by Samantha Fernando. Recent highlights include 'Weather Forecaster' in The Water Diviner's Tale for Opera North; presenting a group of newly written songs at Hull Jazz Festival as a Kickstart Commission Artist, and the premiere of Egyptian composer, Nahla Mattar's Songs on Colloquial Arabic at the Royal Opera House Engender Festival. In addition, Camille completed a PRSF Resonance residency with Opera North, where she explored the diversity of her cultural heritage more deeply, co-creating a new song cycle, Mezzaterra (Meeting Point), which has been performed at Opera North and as part of the Tete-a-Tete festival.
Camille is a Pegasus Talent Agency artist.
"She sang with passionate intensity, drawing out the power and grief of one reliving from the other side a history that repeats itself…the image of her kneeling to the words of the final spoken lines remained with me long afterwards…It was one of the most remarkable musical experiences of my year."
George K. Haggett, Tempo Journal, Dec. 2019 (Silk Moth, El-Turk).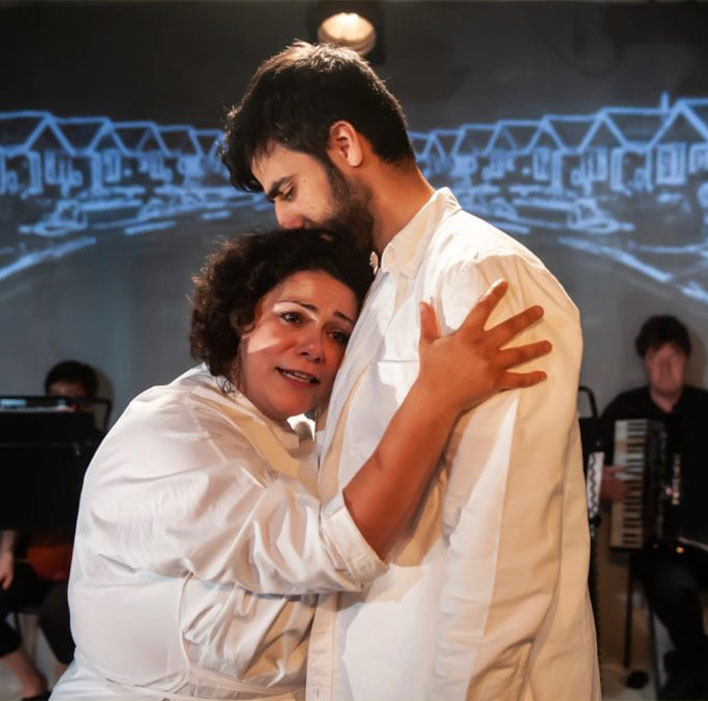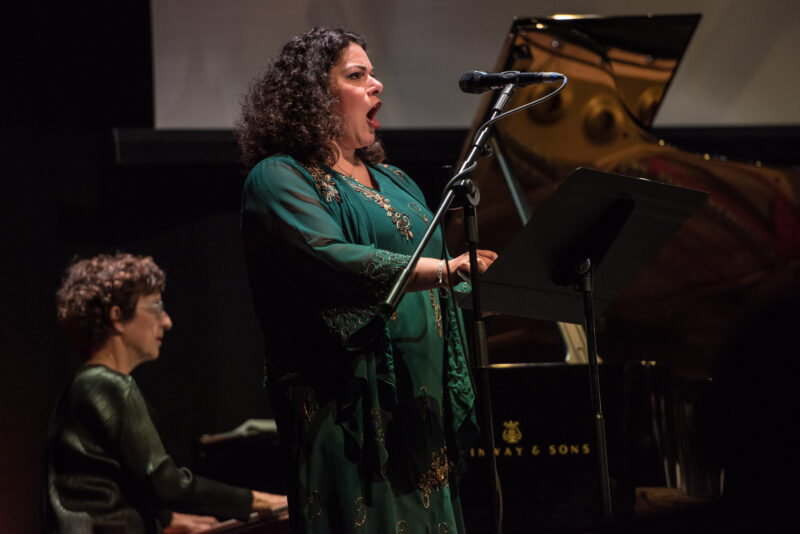 Camille champions the work of contemporary composers, recently premiering four new works by Gavin Higgins, Kerry Andrew, Robert Mitchell and Larry Goves in 'Notes About Now' with the London Sinfonietta.  Camille played the Weather Forecaster/mezzo soloist in Rachel Portman's, The Water Diviner's Tale with Opera North, and presented a new group of songs co-written with Tom Lawrence at the Hull Jazz Festival, as one of their Kickstart Commission Artists. She has also given the first performance of a number of vocal works by Julian Dawes, including two of Julian's CDs of Jewish song.
Camille debuted at Grimeborn in 2019, in the role of Mother in Bushra El-Turk's Silk Moth and has since appeared with the London Sinfonietta and the Royal Opera House Engender Festival.
She made her Wigmore Hall debut with the Liverpool Philharmonic Chamber Orchestra, singing the UK premiere of two pieces by the Palestinian composer, Patrick Lama.
Other highlights have seen Camille singing the role of Mysterious Lady in Whistle and I'll come to you, my lad; Anna in Tobias and the Angel; Reciter in Walton's Facade, Murder in the Cathedral (Iris Theatre); the world premiere of Song of Songs (Ken Burton); chamber recitals with the Amos Ensemble, and a series of concerts with the London Vintage Jazz Orchestra.
Photo: Monika S Jakubowska
Camille has performed numerous times with her own ensemble of Arabic and Jewish musicians and as a solo concert performer. Performances of note have included Music Beyond Frontiers, a concert of Arabic and Jewish music with Hilda Bronstein, as part of the Sing London Festival; a recital to support the Friends of Bereaved Families Forum: Israeli-Palestinian Families for Peace (LSO St. Lukes); concerts with the Choir of London, under the baton of John Rutter and performances for the charity Hafla which promotes Middle-Eastern co-existence.
Camille appeared regularly with the Iraqi-Jewish ensemble, Rivers of Babylon, performing at Simcha on the Square, as well as creating the role of Lola in Pocket the Clown (Jim Marcovitch) at Battersea Arts Centre.
Camille has also performed for the charities, Live Music Now and Music In Hospitals and has twice taken the role of Musician in Residence at the Jewish Christian Muslim Conference in Germany.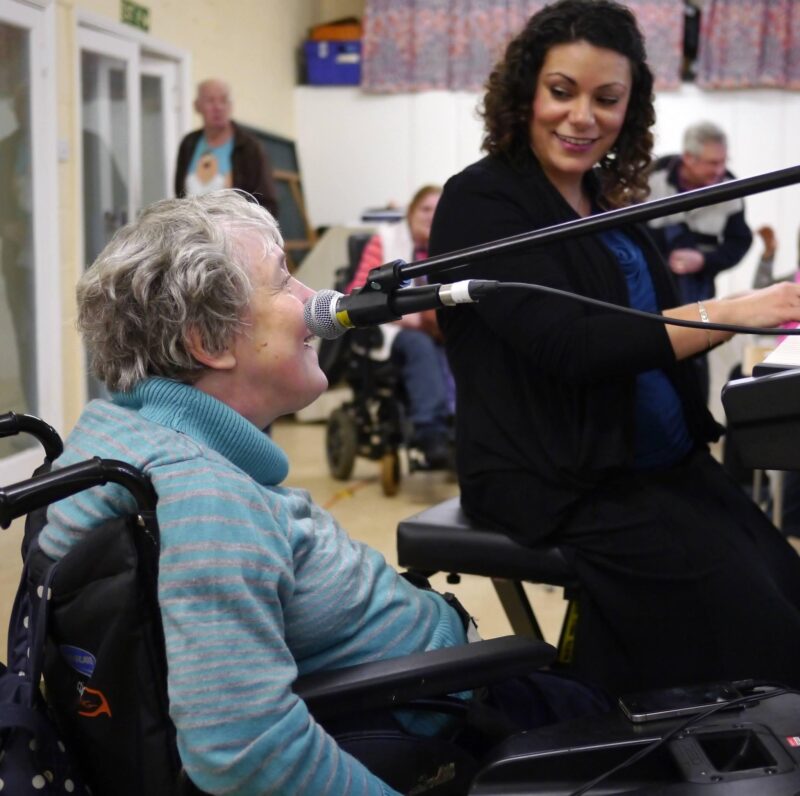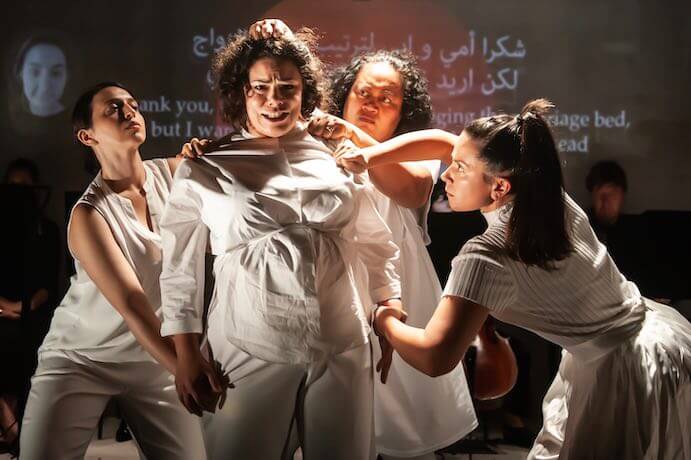 Her passion for embracing music from many cultures has brought her success and accolades not only as a performer but also as an educator, working with children and young people across a wide range of communities including Spitalfields Music, Tower Hamlets, Hemel Hempstead, and South Oxhey (Watford). After living and working in London and Hertfordshire for many years, Camille has relocated to Hull, East Yorkshire. Her current work in education includes working as a Choral Practitioner for the Voices Foundation in schools in Grimsby, Bradford and Corby, as well as delivering the Create and Sing training for the Royal Opera House.
"The British-Egyptian mezzo Camille Maalawy, experienced in Arabic and Sephardic singing styles as well as Western classical music, was a perfect fit for Mother…Maalawy was not only a strong singer, but also an excellent actress who brought a warm humanity to Mother and projected complex emotion even when reacting to a phone screen." Caroline Potter, I care if you listen, August 2019 (Silk Moth, El-Turk).
2022
April 2022
Whistle and I'll Come to You, My Lad with Hull Urban Opera
2021
November 2021
Camille completes her PRS Resonance residency with Opera North
2020
November 2020
PRS Resonance residency at Opera North
The PRS Resonance residency at Opera North will see Camille work with Mark Slater and Guy
Schalom to research and develop a new vocal work fusing Arabic/Coptic traditional song and western classical vocal music.
Sept/Oct 2020
Camille is part of the Pegasus Opera mentoring scheme
Camille is part of the Pegasus Opera mentoring scheme, and will receive one to one sessions with soprano, Maureen Brathwaite and agent Samuel Krum from Robert Gilder and Co. International Artist Management, as well as an online audience with Sir Willard White.
Lockdown 2020
Online teaching
Camille has been teaching a number of private students online, in addition to working with schools to deliver live sessions as well as teaching videos and virtual assemblies, as part of her role with Voices
Foundation.
March 2020
Celebrating a fifteen year association
Celebrating a fifteen-year association with composer, Julian Dawes with a recital of Julian's vocal music,
accompanied by Jonathan Fisher, Piano, and Verity Evanson, 'Cello at the 1901 Arts Club, London. 2021 will see Camille recording this repertoire for a new CD.
2019
November 2019
Music Mark Annual Conference
A presentation at the Music Mark Annual Conference in Sheffield for the Royal Opera House Create & Sing Project. Showcasing CPD workshops delivered across the UK for teachers and musicians to introduce
the Carmen and Hansel and Gretel education projects in their own settings.
October 2019
The Voice of Egypt
The Voice of Egypt – Real Music Academy with Guy Schalom at Benslow Music, Hitchin Camille delivered sessions to introduce using the voice in a healthy way, and the different genres of Arabic song, working with musicians and dancers.
August 2019
Camille performed 'Silk Moth'
Camille performed 'Silk Moth' by Bushra El-Turk at the Grimeborn Festival (Arcola Theatre, London).
Focusing on the difficult themes of FGM and honour killings, 'Silk Moth' places on stage a mother. This one-woman performance raises powerful questions: What is her role in this horrific 'tradition'? Is she a victim, submissive, or coldly complicit?
June 2019
The Big Malarkey
"The Big Malarkey" – An outdoor literary festival taking place in East Park, Kingston upon Hull. Created initially for Hull's City of Culture in 2017, this now annual celebration of all things literary is a must see event. By exploring and teaching songs from around the world with Hull's Freedom Chorus, this enabled Camille to create and devise content for a family workshop taking place on Sunday 29th June, followed by a performance of the Freedom Chorus.
May-July 2019
Snappy Operas Project
Camille was a musical director for the Nottingham strand of the Arts Council England funded Snappy Operas Project with Mahogany Opera, based in three schools in Bulwell, creating performances of five specially commissioned operas, with performances at the Nottingham Playhouse on 1st July 2019.
2018
Nov 2018 onwards
Voices Foundation
After moving north, Camille began working with Voices Foundation as a vocal practitioner in schools in Grimsby, Bradford and Hull. This was part of a significant Voices Foundation project in partnership with the David Ross Education Trust (DRET) and the Paul Hamlyn Foundation to support and evaluate the
impact of singing within school settings.
July 2018
Echoes of the Soul
Echoes of the Soul, a CD of music by Julian Dawes is released. Camille was the mezzo soloist in Songs from Shir Hashirim (Songs of Songs) and Three Jewish Songs.
2014
September 2014
Tobias and the Angel
Camille sings the role of Anna in Jonathan Dove's 'Tobias and the Angel' for Dacorum Community Choir's anniversary celebration. Bringing her performance and education work together, she also helped to prepare children from local schools to sing the children's chorus for the production.
20113
Nov 2013-Oct 2018
Head of Dacorum Music School
As Head of Dacorum Music School (part of Hertfordshire Music Service), Camille was responsible for all aspects of running the music school. These included outreach, line-managing 35 teachers & 3 admin staff, forging partnerships with 55 local schools, organising regular concerts & managing a budget.
2012
June 2012
Daughter of Arabia CD launch
Daughter of Arabia CD launch at St. Ethelburga's Centre for Peace and Reconciliation, London; the culmination of a three-year project exploring the rich heritage of Arabic and Sephardic repertoire.
2011
Summer
Musician-in-Residence
Musician-in-Residence (2010 & 2011) at the Jewish, Christian, Muslim International Conference,
Osnabruck, Germany
2010
Summer
Musician-in-Residence
Musician-in-Residence (2010 & 2011) at the Jewish, Christian, Muslim International Conference,
Osnabruck, Germany
March 2010
Camille makes her Wigmore Hall debut
Camille makes her Wigmore Hall debut, singing texts from Said Darwish's Yatirou-I Haanou, set by the Palestinian composer, Patrick Lama, with the Liverpool Philharmonic Chamber Orchestra.
2009
2009-2010
Singing Playgrounds
Camille lead and coordinated a year-long 'Singing Playgrounds' project (with Ex-Cathedra) with six schools in the Watford area. Each school received a day's visit every half term, which also encompassed a mentoring scheme for members of staff and approximately ten children to train as 'Song Leaders' in each school to be able to lead the programme in between the visits. This culminated in two massed performances, one in the largest school of the cluster and the second as part of the Hertfordshire 'Sing Up' Gala at the Royal Albert Hall.
2008
2008-2018
Choral Outreach Project
The Choral Outreach Project was a long term project with Hertfordshire Music Service (initiated by Sing Up) where Camille worked on songs from around the world with nearly 30 schools. Focusing on schools without a strong tradition of singing, this led to a termly performance at St. Albans Abbey with choristers and other schools.
2008-2012
London 2012 Olympic
As part of the build-up and legacy of the London 2012 Olympics, Camille was the vocal animateur for a
number of large scale projects for the New London Orchestra. These included The Journey Begins and
Football Focus, which saw collaborations across the borough of Newham with schools and adults with
SEND.